We're well on our way into a new year! I've learned never to think I've seen it all in the Fort McMurray real estate market and 2021 is no exception. Real estate wise, 2021 has come in like a lion. Local real estate sales activity is at "the best levels that we have seen since 20141". Now that we are, optimistically, more than half way through this winter, we can expect the local Fort McMurray real estate market to continue to be bullish. Perhaps even more so this spring with a distinct lack of homes for sale – there are more buyers than sellers!
What could this mean to you? If you've been thinking about making a move – now's the time.
Big opportunities are happening now in the Fort McMurray real estate market.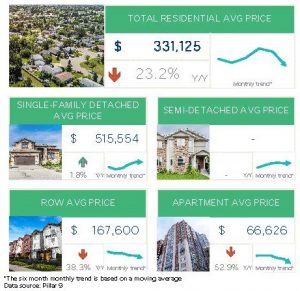 What sort of opportunities?
In addition to the low number of listings on the market (this creates demand!), a stall in new construction, much of the real estate market has seen price adjustments make home ownership in Fort McMurray more affordable, and interest rates are the lowest in Canada's history – yes, the lowest!
Interest rates right now can be found as low as 1.5%. As a result, a huge advantage has opened up for homeowners, first time buyers, real estate investors, or anyone looking to make a move in the Fort McMurray real estate market.
If you are considering your next move, now may be the perfect time.
Getting into the market? First time buyer? Maybe you've been thinking about upgrading to a newer, bigger home or maybe moving into a new area of Fort McMurray. Whatever your motivation you'll likely save thousands of dollars because of price adjustments in the local market and the current historically low interest rates when compounded over the term of a mortgage.
Be sure to check out the resources throughout this website, including:
Absolutely, I am here – learn more about me –  to personally help you navigate the Fort McMurray and area real estate market while maintaining your personal safety.
Buying, selling, retiring, new to town, real estate investing – bring me your situation. I'll be happy to help you solve it, quickly, professionally and honestly.
Let the power of my real estate network and wealth of experience go to work for you. Let's get started – 780-799-5555 
#weloveymm
---
2021 Fort McMurry and area Real Estate Snapshot
---
1 Alberta Real Estate Association; Fort McMurray Area January 2021 Monthly Statistics press release https://configio.blob.core.windows.net/media/em_AlbertaRE/Attachments/Stats/Public%20Files/Fort%20McMurray%20-%200116%20-%20Public.pdf
The post 2021 Fort McMurry and area Real Estate Snapshot appeared first on Colin Hartigan.

Source: Colin Blog Import